Richland Bombers' All Bomber Reunion 2000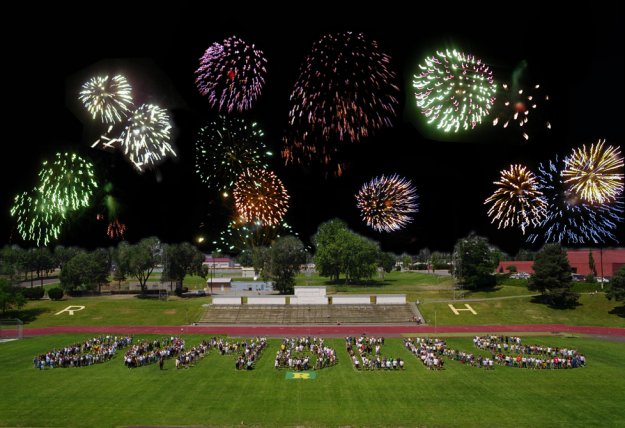 The above picture took a lot of planning. There are many pictures of the process in the "slide show".
Burt Pierard ('59) chalked the outlined letters B-O-M-B-E-R-S on the field of the Bomber Bowl (aka Fran Rish Stadium) and those of us who attended R2K were told which letter our class was to stand in so that we could form the word BOMBERS with our bodies. The picture was taken at about noon and it was HOT!!
Larry Mattingly ('60) provided the fireworks display that happened around 10pm on Saturday night and some very clever people superinposed the fireworks in the background of this picture. It's AWESOME!!!





Who took all the "slide show" pictures?
In no particular order:
Judy Willox Hodge ('61), Tere Smyth Wilson ('65), Cindy Rau Utecht ('80), Kim Edgar Leeming ('79), Barbara Isakson Rau ('58), Patti Snider Miller ('65), Glen ('58) & Carol Rose, Dave Isakson ('63), David Rivers ('65), Sue Elliott Homan ('62), Dave McAdie ('79).

This "slide show" is in quasi-chronological order beginning with the planning stages of R2K (Reunion 2000) and including the cleaning of the trophies in the gyms' foyer, the actual days of R2K and the "Thank You" pizza party for the organizers after it all.
There are over 400 pictures in this "slide show" so pop some popcorn and enjoy the show!!

Click here to begin the show





R2K STUFF TO BUY

Hats, T-shirts, sweatshirts, polo shirts

Video of the R2K Alumni Basketball Game

R2K Photo Album on CD








page started: 06/29/00
page updated: 05/24/02

E-mail the webmaster
original R2K website